Merry Christmas! It is December 25th and since I'm not working today I have a moment to write down a little letter about what our family has been doing this past year.
First...I know you don't have your card from us yet this year.
It is sitting in front of me ready to go out in the mail tomorrow.
I am sure that I will hear that from some relatives soon "Did you get Jessica and Chris' card? No? We didn't either." Trust us...we didn't forget about you, we still love you, we have just had some other things take priority this year and have not wanted to feel the stress and rush that sometimes happens with this Christmas season. This year we are enjoying the moments that we have together and remembering what this season truly is about. The card will be on it's way soon but here it is and a note below about what we are all up to in the Williams family in case you would like to see it now.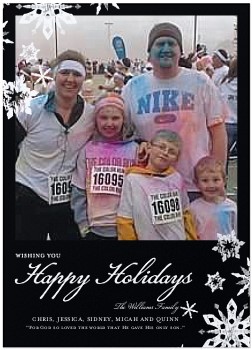 Wishing You Happiness Holiday Card
Regarding the card...half of our family doesn't like it and the other part of the family thinks it is "awesome" (Micah's words). Since we don't have 100% approval on our Christmas card we will add a few photos in here for you and see if we can get our approval rating back up to at least 4 out of 5. :)
Quinn is 5 years old. He is what we call "our verbal child". What Quinn thinks is what Quinn says. He has a lot of questions these days and is very curious about math and science as well. I'm guessing that his curiosity is stemming from his father's side and not necessarily from me. Quinn really likes Play-doh and would do this every day if he could. Quinn played t-ball this summer through the Y and even got to play in front of some family members. His "games" were very low-key and all about team building and simple basics. This was also a parent/child activity so either Chris or I got to be part of "the game" each time too. He also enjoys asking "what is 100 + 81?" or some similar type of question whenever there is a moment that is probably just too quiet for him. He really likes to play outside and spends a lot of his time with his brother just enjoying the outdoors. He is going to preschool at Kingdom Kids Preschool one day a week and has been really enjoying that this year. He is our baby and this is our last year he is at home with us before he goes off to Kindergarten.
Micah is 7 years old and is growing into a very strong, little man. His favorite things are Pokemon
(although Chris and I have absolutely no idea what any of it means or how it works)
, Lego's, his DS and Cub Scouts. This year he is in 2nd grade and is in Andi's class at Lincoln K-8. The class is actually a 2/3 age group and Micah has been challenged right from the get-go this year and has learned what responsibility is all about in this higher grade. He is working very hard in school and really enjoys science and also the special challenges that he has at school with the computers. Micah still gets to wear his glasses but at a check-up this year we did learn that his eyes are no longer working against him...when he was 3 we found out that one of his eyes and his brain were almost not talking with eachother. It took a few years of patching, exercises to strengthen his eyes and build communication again (and a few sets of glasses) so this was very exciting news to hear. Micah enjoys being outside and playing, usually getting dirty in some way, and he seems to always have energy left over at the end of the day. I wouldn't be describing Micah correctly if I didn't say that food was a big part of who he is. Not sure if it is the "growing boy" mentality that he just has inside of him or if food just truly is part of who he is...but food, past food, future food, current food, memories of food (even from years ago) are an almost constant part of his conversation. If you think I'm joking just take him somewhere, have it be about noon and see when he might just pipe up casually in the conversation that it truly is time to eat because, well, it is noon. He was also very concerned the other day when we had a snow day because the desert at school was one of the best ones and he wasn't sure what was going to happen to it since no one was there to eat it.
Sidney is 11 this year. We have a pre-teen in our midst and my oh my is it going to be fun. I am seeing a little girl start to think of her dolls and toys as things she no longer is needing and replacing those things with hair products, sparkly clothing and sometimes accessories. She isn't a huge "girly girl" but there is some potential there for that to happen. Say a little prayer for us this next year because the sass inside of her is starting to show and to be honest, I already have enough sass for this household. ;) Honestly though, Sid is doing a great job as she is growing up, being challenged more at home, school and in her social settings. She knows what she should be doing and what she really should be staying away from. Sid is in 5th grade in Mickey's class at Lincoln K-8. This is her second year with this teacher as it is a 4/5 class group. Her biggest challenge this year at school has been her locker...it just doesn't want to open for her. This is a daily struggle for her and one that the entire school seems to be involved in sometimes...including the principal trying to open it. When her locker isn't causing problems she is excelling at school and enjoying it quite a bit. She was the first person to be the Fast Math Champion in two different math areas this year and is also doing well with the school computer challenges like Study Island and is up on "the wall" at school. Spelling and handwriting are also some of her favorite school subjects that she steamrolls ahead in and has fun with. She also enjoys science...just like the boys. Sidney has been part of American Heritage Girls again this year and has been busy earning service stars (10 hours of service equals 1 star) and badges for her uniform. She also went camping twice with her troop, once in the spring in cabins at Whitewater and another time in the late summer in tents. (showers are optional at camp...fyi to those who may have kids coming in to camping season soon). Sid also really is enjoying crafts like scrapbooking, latch hook and some sort of crochet that she does with this little gadget. I just passed on to Sid this morning the flute that I used in high school so we will have some excellent music coming from her in the future years!
Chris has had a year of some new things and some old. He went on his 6th missions trip to Sisseton, SD and this year Sidney went with him also. They both had a great time serving the people and churches that are in that community and building those relationships with others as well as completing some projects that they had planned. You can read more about this missions trip at this
link
. In July, Chris made the decision to leave IBM and went to work for a company in Rochester called LSI. I am not the person to talk to about what Chris actually does at work since I don't understand all that computer lingo that goes on in that tech area of our world. He is adjusting to all of the changes that come with a new job and traveled to California for work as well. Narrow Road Coffee is the business Chris co-owns and he has been working hard on that also. About once a week coffee is roasted based on orders and then delivered or mailed out. If you haven't already heard about Narrow Road Coffee you need to check out their website or Facebook page (see below). Not only is it really fresh coffee that you get to drink but you help out a missionary with each purchase. Chris, himself, has also been working hard these last few months to make some changes...and he is not only getting healthier but is needing to go purchase some different clothes because his old ones are not fitting that great. He is doing a great job losing weight and being healthier and has a new viewpoint on fast food and the normal foods that Americans love to consume.
Me...my year has been one of change and new things also. I started helping with the group Sidney is part of, American Heritage Girls, and am the Service Coordinator for our troop. I really enjoy this position and like to challenge the girls to think outside of the box with how they can help others. I've also been helping with marketing for Narrow Road Coffee and have also been a little crafty with some projects with their used coffee bags. Day Care is still my day job and the little kids keep me very busy throughout the day and my own kids the rest of the time. I am thankful for the families that I serve and all the little ones that I get to see each morning. This blog is mostly about my journey to get healthier and it really has been a "journey". Three years of change...over 70 pounds gone and a viewpoint on health that I have never had before. This year I have had a few highlights though...I completed the Warrior Dash in September with my sister and a friend. I got beat up in the process but it was pretty fun. Chris, myself and my brother are signed up to do it again in Fall 2013. I also signed up for a boxing class this fall. Every Saturday morning I am at a boxing gym for 2 hours, hitting bags, being in a ring and sometimes hitting our coach. :) It probably sounds a little extreme but it is one of the best workouts that I have ever done and leaves me usually needing a nap by the afternoon. I also really enjoy powerlifting and challenging myself at the gym too.
The past three months I have also been teaching a spin type of class two days a week at 5:45am while the regular teacher was on maternity leave. I didn't realize how much I would like teaching but it really has been one of the best things that I have ever done. The plan is that I will have my own classes two days a week starting in January...and I am very excited about that! I never thought that I would be one of those people that likes to
yell
motivate people in an encouraging way but I truly enjoy it.
2012 is almost over...we will miss those that are no longer here with us and treasure those that are still part of our lives. We hope that you had time today to remember the reason for Christmas...that a little baby was born that came for all of us.
Want to keep up with what we are up to at our house? Here's how:
all pictures...except the one actually on our Christmas card and the one of Quinn sleeping on me...were taken by my friend, Rachel Parsons. You can find her on
Facebook here.